"Think Pink, Think Ladies"
Are you sure? Well i think pink is unisex, I also own a few pink colour shirts and one pink strip colour formal shirt by PDI. Check out my facebook u will see me in pink. haha.
Back to the title, congratulations to KTMB (Kereta api Tanah Melayu Berhad) for introducing ladies only coaches in their commuter(KTM komuter) service.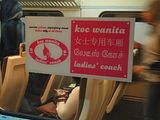 This is really a good initiative by KTM. This initiative already had begun long time ago in Japan and modern countries. Click
here
to view more.
Personally, I have not see any serious groping in KTM before because I am not a frequent user of KTM(I did not use KTM everyday). But If I hang out. KTM Komuter is definitely a must for me to go to Kuala Lumpur, KL Sentral and Midvalley. In fact I am also a frequent passenger of KTMB, that is intercity train from Wakaf Bahru to Serdang and vice versa. During peak time, KTM is really pack and train delay worsen the situation, making every station is full of people how i can bet many of us cannot board the coaches during peak and delayed period. Women and female teenagers will definitely become a victim of sardine packed coaches.
However I saw before a "little sexual excitation" by foreign workers to girls. He stand near to the back of the girl. And I guess is he smelling the nice perfume smell of the girl or rubbing the girl? That one I am not sure. One day when I went back to home town because university holiday started I saw one foreign guy sat beside one lady. The foreign guy intentionally leaned back to the window. And for that lady, for sure she will move to the front a little bit.
KTM should locate enforcers at their stations to make sure only "ladies all the times" board the middle coach of every train. The middle coaches is only for ladies and children 12 years old and below.
"Tren akan tiba di stesen sebentar lagi"
"Train will be arriving station shortly"
- accouncement bell at KL Sentral
Eventually, pink coaches will not cure much more problems of the time delay service. KTM should increase their accuracy of the arrival of trains on every stations. I am wondering why train from Seremban will eventually stop before Midvalley station and/or before KL Sentral for half a minute. Is this mean they arrived earlier than predicted? And they need to wait green light from the control center?
Hangat-hangat tahi ayam
Supposedly this program is long term and should not be "forgotten" easily. The enforcer should patrol the in and out of the middle coaches at all times. This is to ensure no adult males go into the train except special cases. KTM should add the automatic gate at every door entrance of the commuter. The gate is similar to monorail KL at Bukit Bintang/Imbi Station.
I wish that women will be more secured in this ladies all the times coach. =)
p.s. KTM should add the comfortability of passengers in every also.